If you're like the average American, you'll spend 32 hours online this month. And a good chunk of that time will be spent searching the Web: looking for a new faucet; finding the best ramen restaurant; or helping your child learn about Alexander the Great for his or her school report.
When you join Bing Rewards from Microsoft
, that time can be turned into real rewards—movie tickets, gift cards and even charitable donations—just by using Bing to search the web.
How does it work?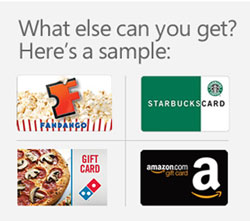 Bing Rewards is free to join. Just sign up and every Bing web search starts earning you credits, like a frequent flyer program for web searches. Take advantage of Bing daily offers for even more credits.
Whenever you're ready to redeem, visit the Bing redemption center for a selection of great rewards from your favorite brands, including gift cards from Amazon*, Sephora and Starbucks.
It's a quick, easy and free way to get rewarded for something you are already doing.
Special offer from BIng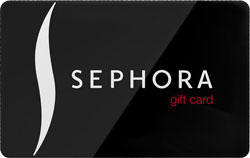 As a special bonus, join Bing Rewards by May 5th through the link below and you'll get a free Sweepstakes entry to enter to win a $500 Sephora gift card (3 winners).
How to sign up and enter the sweepstakes
Click HERE and sign up with your Facebook or Microsoft email account and then follow these easy steps to claim your entry:
Go to the dashboard to view your offers
Click on the "Your sign-up bonus" offer
Choose the "1 Sweepstakes Entry: 3 Winners – $500 Sephora Gift Card" option
Click the "Redeem" button on the Sephora sweepstakes page
Winners will be announced on the Bing Rewards site on or around June 16, 2014.
*Amazon.com is not a sponsor of this promotion. Except as required by law, Amazon.com Gift Cards ("GCs") cannot be transferred for value or redeemed for cash. GCs may be used only for purchases of eligible goods on Amazon.com or certain of its affiliated websites. For complete terms and conditions, see www.amazon.com/gc-legal. GCs are issued by ACI Gift Cards, Inc., a Washington corporation. All Amazon ®, ™ & © are IP of Amazon.com, Inc. or its affiliates. No expiration date or service fees.