Love the savings but hate the crowds? This year Sam's Club has made it easier and faster to shop and save with free apps for iPad and iPhone—a first for a discount club.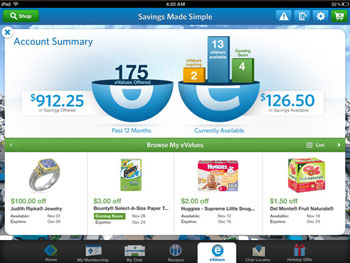 There are four ways to explore the more than 40,000 items available through the Sam's Club app: Check out the New Items sections for new arrivals in-club and online; browse the 40-50 discounted items in the Instant Savings section or shop by category under the Shop button. You'll find everything from food items to holiday decorations to electronics to diamond jewelry to toys for kids. Sam's Club Plus members can also check their eValues, limited-time discounts only available to members at this higher level that match their purchase preferences.
While you're browsing, you can add items to your shopping list, which is accessible from the iPad and iPhone apps or any smartphone with a web browser. Use it to make purchases in-club or purchase using the app for delivery at home or for pickup at your local club.
With in-club pickup, you can schedule a time for all your items to be pulled from the shelves, scanned and ready for purchase and pickup—a huge time saver. And if you plan on going to your local club, make sure you check out the Taste and Tips schedule of food items being sampled.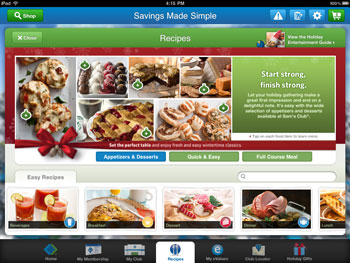 Beyond shopping, the app has a large recipe section. There's a section for "Quick & Easy" recipes or you can browse by meal course. Each has a color photo and estimated prep time. There also a dedicated seasonal section, which now includes decorating tips for the holidays and gift ideas.