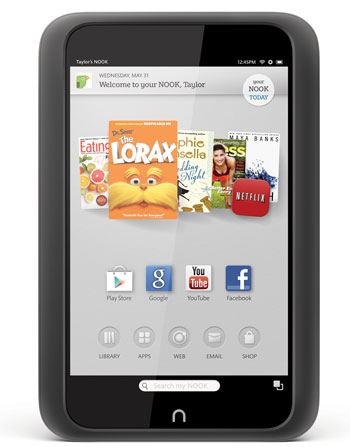 Nook HD and HD+ owners who have been disappointed by the limited app selection now have a reason to celebrate. Barnes & Noble announced today that Google Play is now available for all Nook HD and HD+ devices, adding more than 700,000 apps, along with access to Google Play's library of songs and movies. The update also includes other popular Google programs: Google's Chrome browser.; Gmail; YouTube; Google Search; and Google Maps.
This is big news for Barnes & Noble. While the Nooks have been very competitive from a features/cost perspective, the anemic library of apps was overshadowed by the much larger selection available on the Amazon Kindle, not to mention Android tablets from Samsung and others that provided full access to Google Play. And that has not been good for B&N's bottom line: holiday sales of the Nook were down more than 12% in 2012, compared to 2011, and losses in the Nook division increased.
With this update, B&N has a fighting chance for a comeback. It's now Amazon who is the laggard in the app department and, when put head-to-head against Samsung, the Nook offers a compelling value at $199 for the HD and $269 for the HD+.
The software update will begin to roll out today over-the-air to Wi-Fi connected devices. Users who would like to update immediately can download the software from www.nook.com/support.