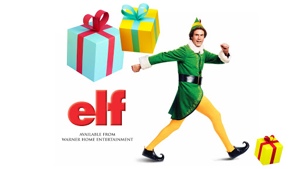 Christmas is a great time to sit around the couch with the family to enjoy a holiday film or two. If you're looking for a feel-good movie to share with your family this year, check out this great deal – Google Play is offering the Will Ferrell Christmas classic Elf as a free download for a limited time. (It is old enough to be a classic now, right?)
If you're not familiar, Elf is a terrific comedy about a human – Will Ferrell – who is raised in the North Pole as an elf working for Santa. He's then thrown into the real world in adulthood, and … well, I won't ruin how it ends. Suffice it to say, it's a light-hearted, feel-good PG Christmas movie worth sharing with the family.
Sure, you're only going to get the standard-definition version for free – you'll have to shell out $4.99 for the movie in HD. But let's not quibble here: Free is free, even if you're not actually getting ownership rights to the movie. You can even download it to your Android smartphone or tablet for to help the kids busy on that car ride to Grandma's house.
You can claim your free download of Elf by visiting Google Play and clicking the red free button.