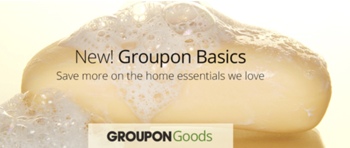 Popular deals site Groupon today launched Groupon Basics, a new Costco-esque venture that promises to save you money on name-brand household goods purchases by selling in bulk quantities.
"We're putting the bulk buying power of Groupon to work for our customers, helping them save on serious quantities of the things they buy and use every day –– all from the convenience of their home," explained Aaron Cooper, senior vice president of Groupon Goods. "By adding this service to our marketplace, we're providing shoppers with great value and yet another reason to always check Groupon first. Best of all, there's no membership or monthly fees."
The focus of Groupon Basics is, at least for now, seems to be on high-end brands, supplements, deodorant, soap and over-the-counter medications, all in absolutely massive quantities. You can buy 18 sticks of Tom's of Maine deodorant for $84.99, a six-pack of Delsym cough syrup for $58.99 and 2,400 Vanity Fair napkins for $49.99, for example. Shipping of Groupon Basics items is free with a $25 purchase, and the company offers a 5% rebate on future purchases.
Large families and institutional buyers may find some good bargains on Groupon Basics, but for the average family, quantities seem too large and prices don't seem low enough given the extreme bulk. The average household will probably do far better with Amazon's new Prime Pantry grocery delivery service, which offers a wider selection, less expensive everyday brands and far more reasonable sizes with flat-rate shipping.
You can take a look at the new Groupon Basics selection by visiting the Groupon website or by visiting the "Goods" tab in the recently updated Groupon app.