Genetic testing from 23andMe can help you learn more about your past and assess your predisposition to certain health conditions. Now here's a chance to win a genetic testing kit from 23andMe so you can find out who you REALLY are.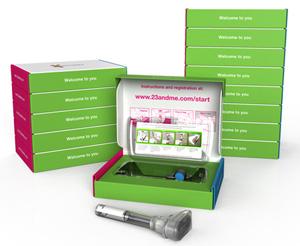 With your new genetic testing kit, you'll learn what percent of your DNA comes from each of 22 worldwide populations, ranging from East Asia, Sub-Saharan Africa, Europe and more. You can also discover if you share an ancestor with famous figures such as Marie Antoinette and Thomas Jefferson. 23andMe will even tell you what percent of your genome comes from Neanderthals!
And knowing what's in your DNA can also help you understand genetic conditions so you and your doctor can tailor your health care and prioritize lifestyle changes. 23andme reports include:
An estimate of your genetic risks for more than 200 health conditions, including Type 2 Diabetes and Parkinson's disease;
40+ reports on inherited conditions that can be passed on to children, including Cystic Fibrosis and Tay-Sachs;
and multiple reports about how your body might respond to certain drugs (including caffeine).
Want to learn more about yourself? Enter by August 9th, 2013 for your chance to win!
To Enter for a Chance to Win
Tell us in a comment below "What are you most interested to discover about your DNA?" (the winner pick is random)—be sure to provide a valid email address in the box provided so we can contact you if you win.
Official Rules
We will randomly select one (1) winner from the entries. No purchase is necessary to win. One entry per person. The giveaway will end at 11:59pm on August 9th, 2013. Void where prohibited. U.S. residents only. ARV $99. Click here for the full rules.