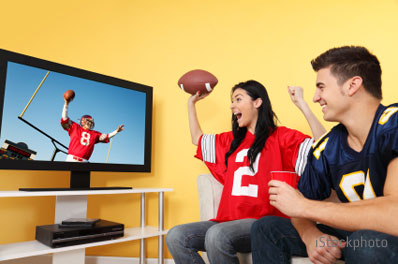 If you're one of the millions of folks throwing a Super Bowl party on Sunday and are ready to buy a new big screen TV, this guide will help you choose the right one for the big game.
Screen Size
When it comes to viewing the big game, our rule is the bigger the better. Considering the average screen-to-viewer distance is 9 feet, we recommend a minimum screen size of 55-inches. HDTV screens are available in stores up to 90-inches.
Room Lighting
The kickoff time of Super Bowl XLVII is this Sunday at 6:30 pm ET. For those in the eastern and central time zones, this is after sundown, so sunlight should have no effect on viewing at those locations. West coasters may need a brighter picture if they have no window treatments on any windows opposite the TV. We always recommend window shades or curtains to prevent any screen reflections. Also, dim the lights in the room if any are glaring off the screen or washing it out.
Viewing angles
If you are going to have more than three people, you'll want a big screen with a wide viewing angle that gives viewers the same great picture no matter where they sit or stand. Plasma beats out LED LCD and LCD in this department.
Motion Blur
All plasma HDTVs have excellent motion resolution. LED LCDs require a higher refresh rate to limit motion blur, which can be an issue, especially with sports programming. Our list of recommended models only includes 120 Hz and higher refresh rate models.
Recommendations
Plasma TVs
All our top recommendations are for plasma TVs. All prices are current at the time of this writing. We found the 2012 Panasonic VT50
series models (winner of HD Guru's 2012 Best HDTV award) to have the best picture quality of any HDTV available today. For slightly less performance at a lower cost, go with the GT50
models, with prices from $1349.98 for the TC-P55GT50 55-Inch
model, $1899.98 for the 60-inch TC-P60GT50
and $2448.00 for the 65-inch TC-P65GT50
.
The Samsung PN8000 and PN7000 plasma series have near the performance of the Panasonics, with a number of models at lower cost. The PN60E8000 60-inch
top of the line model is selling for $1897.99, while the 64-inch version is selling for $2597.99. The 7000 model has similar performance but lacks a few features, including the built-in HD Skype camera/microphones and voice/gesture control. It is available as the PN64E7000 64-Inch for $2297.99.
At the lower price ranges, Panasonic offers a 55-inch TC-P55ST50
for $1199.99 and below that a 60-inch TC-P60UT50
for $1305.98.
Samsung's economy series full 1080p HD plasmas are the PNE550 series. The 60-inch sells for $1297.99 and the 64-inch is priced at $1997.99.
LED LCD TVs
The best LED LCDs are the ones with rear backlights and local dimming (the ability to turn off the backlight in areas of the screen that need to be black). They have the best contrast ratios for LCD technology, but are priced far higher than our recommended plasmas. The only sets available today with local dimming are the Sharp Elite 60″ Pro-60x5fd
for $4443.00 ( 70″ Pro-70x5fd
for $6495.99), the 55-inch Sony XBR55HX950
for $3198.00 and the 65-inch XBR65HX950
for $5198.00.
If you insist on LED LCD and don't want the very pricey local dimming models, we say go big. Sharp offers screens up to 90-inches
. Samsung offers a 75-inch UN75ES9000
for $8997.99.
For those that want bigger and cheaper, in lieu of the best picture, Vizio now offers its E601i-A3 60-inch
for $888 and the 70-inch version E701i-A3 for $1599. Though we have noted some issue with Vizio warranty policies in the past.
Whichever, model you go with, consider whether an extended warranty makes sense. In most cases, it does not.
We hope this guide helps you make the best HDTV purchase for the big game. Be sure to check out our Guide To Setting Up Your HDTV before your guests arrive!