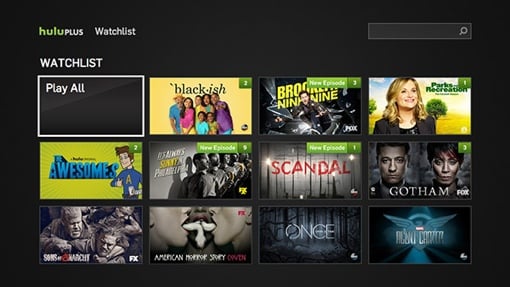 Today, streaming TV service Hulu introduced a personalized feature called Watchlist, billed as "a new, easier way to keep track of your favorite content."
Watchlist is essentially a hybrid mix of Hulu's existing "Queue," "Favorites," and "Shows You Watch" trays. You'll find it front and center whenever you sign on. You can manually add shows to the Watchlist by tapping the plus button on your PC, iPhone and iPad or the "add to Watchlist" button on Android device, gaming console, smart TV and smart TV box. That way, when new episodes of your favorite shows become available, they'll automatically appear in the Watchlist for easy access.
Cooler still, Hulu explains that Watchlist not only learns the shows you like, but also learns how you like to watch them. "Shows that have new episodes or shows you're currently binging on will be prioritized in the Watchlist order over shows or movies you haven't started yet," Hulu explains. For example, I use Hulu to watch The Daily Show every morning as I make breakfast. So when I start up Hulu on my Apple TV box, The Daily Show will be the first thing in my Watchlist. If I sign on later in the day, a different show with new episodes will be waiting in the top slot. And if I want to veg out for a while, I can choose "Play All" and enjoy the new episodes waiting for me all at once.
Watchlist is currently available through the Hulu website, the Hulu iOS and Android apps, Apple TV, Roku and Roku TV, PS3, Amazon Fire TV, and Samsung smart TVs. More devices are slated to get Watchlist in coming months. To learn more and take a guided video tour of the new feature, visit the official Hulu blog.
[Image credit: Hulu]