Summer is the season of travel. And when you're away from home, you want to have the peace of mind that your home and belongings are safe and secure. A home security system will give you that security, but a traditional alarm system may run thousands of dollars to install, and then you still have hefty monthly monitoring fees on top of that. Not a great solution for those on a budget or for renters in a more temporary situation.
That's where a do-it-yourself home security system can make a huge difference.
Fortress Security offers home protection packages that connect to your landline or VOIP line starting at only $120, with no monthly fees. You get magnetic sensors for windows and doors, motion sensors, remote key fobs for arming/disarming, and a super-loud 130dB siren to scare off intruders. And the system will notify you by phone when the alarm triggers, letting you call in and actually listen to what's going on in your home. If you want to control your system remotely, Fortress' Total Security WiFi system (starting at $350) works with the free mobile app for iOS / Android.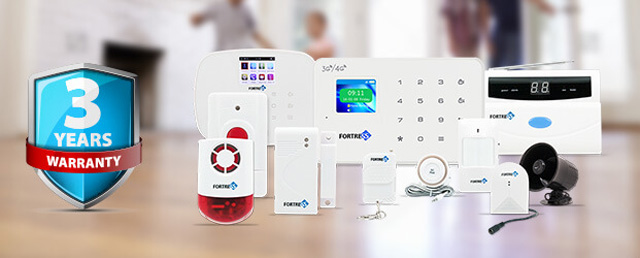 Fortress also offers numerous options that allow you to customize the system to your specific needs, including:
Glass break sensors
RFID keypad – simply swipe a fob to disarm the system
Fortress Eye Sight Wi-Fi 720p HD security camera, controllable through the Fortress smartphone app
Outdoor sirens to alert neighbors of potential break-ins
Panic buttons that immediately trigger the alarm
Pet-immune motion detectors that won't be set off by pets
Smoke alarms
Water sensor to alert you in case of flooding
Gas sensor that detects natural gas and carbon monoxide
Smart outlets that let you turn on and off any electronic device plugged into it remotely from the app or via a set schedule
Installation is simple enough for anyone, even non-techies. For larger homes, it's easy to add additional sensors to cover more doors, windows and rooms. And any accessories purchased at the same time as your main control panel will be pre-programmed by Fortress technicians before they ship them to you. If you need a little extra guidance, the Fortress website has helpful videos, programming instructions, user manuals, and FAQs
All Fortress Security products come with a 3-year hardware warranty and a 30-day satisfaction guarantee, so you can feel confident in your purchase.
Visit Fortress Security to learn more about building your own custom system or purchasing one of their wireless alarm system bundles and you can have far greater peace of mind for your home.
Fortress Security has their Back to School Sale happening from August 14th – August 17th, 2017. You can save 15% with coupon code: BACK2SCHOOL. Visit fortresssecuritystore.com to get the savings.