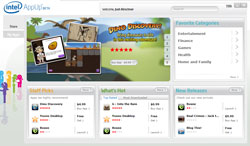 Last week, Intel announced the beta launch of their App Store, Intel AppUp, targeting netbook computers. It's an interesting concept—provide light-weight apps to expand the usefulness of Intel Atom processor-based netbooks—that we believe has a lot of potential. But its current beta release seems as though it was rushed to market to make a CES deadline, with many annoying bugs and a very limited selection of useful apps.
Why we need the App Store
Up to now, Atom-based netbooks—which focus on power efficiency at the expense of computing power—have largely been limited to web browsing, email and other "light" computing tasks. More complex programs, even common ones such as Microsoft Office, can quickly bring a netbook to its knees. So, there is a fair amount of logic in developing a single site for downloading entertainment and productivity apps that are specifically developed with netbooks in mind. In fact, the app store concept makes sense for computers beyond netbooks, and Intel confirms that it should be compatible with all Intel-architecture based processors, including the entire Intel and AMD consumer lines.
It's not there yet
That said, the site in its current form simply is not ready for prime time. We experienced numerous bugs with the App Store, including problems registering and downloading apps. One PC, running Windows 7 Ultimate, simply would not load the App Store. And other users on the support site are reporting issues with various versions of XP, Vista and Windows 7. We also received a system error when trying to register our credit card—a required step even to download free apps.
The apps themselves are also a motley crew. Of the 100 or so Intel claims are currently available, only a handful offer much interest (notably Boxee, a great free streaming app for movies and TV programming). Most of the others are vastly overpriced or have product descriptions riddled with so many grammatical and spelling errors that you strongly question the programming quality (Is spell check really that hard?). If Intel wants to be a consumer facing organization, they need to bring a much greater level of marketing savvy to the App Store.
We're rooting for them
Yet, even though the current implementation is a mess, we really like where Intel is going. As more apps come on board, the App Store will become a convenient place to find programs that are tailored to netbook usage. And based on our initial interactions with customer service, Intel appears very focused on hearing customer feedback and resolving the (many) technical and usability issues.