Join us for a Techlicious Tea Event
Date: Thursday, March 15, 2012
Time: 1 p.m. ET/12 p.m. CST/11 a.m. MT/10 a.m. PT
Hashtags to follow: #TechTea #Intel #Ultrabook
Hosts: @techlicious @suzannekantra @c2cmom
Community Panelists: @techmama @morethanmommy @wellconnectedmom @tech4moms and @scrappinmichele
Think you have to pay a hefty premium to get a thin and powerful laptop with good battery life? Not if you're getting an Ultrabook™.
Ultrabooks are a new class of ultraportable laptops that measure less than 21mm thick, get five or more hours of battery life, use a powerful Intel® Core i3™, i5 or i7 processor and wake almost instantly from a sleep state. All for around $1,000.
What do you look for in a new laptop? How do you know if you're a good candidate for an Ultrabook? Which Ultrabook may be the right one for you? We'll discuss these things and more as we chat about all things Ultrabook on Thursday, March 15th at 1 p.m. EST/10 a.m. PST.
Enter to win a Lenovo IdeaPad U300s Ultrabook: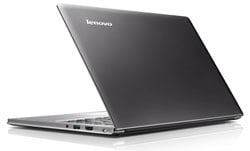 The 13" Lenovo® IdeaPad® U300s is a perfect example of everything an Ultrabook has to offer:
•1.6GHz Intel Core i5 processor
•128 GB solid state drive (much faster than a hard drive)
•Just 0.59" thick and 2.91 pounds
•8 hours of battery life
We're giving away a Lenovo U300s ($1,499 MSRP) to one lucky #TechTea participant, courtesy of Intel!
How to Enter:
RSVP by commenting below for a chance to win! Enter your name and Twitter handle. To be eligible to win you must RSVP and participate in the event using #techtea #ultrabook.
Official Rules
We will randomly select one (1) winner from the entries. No purchase is necessary to win. Void where prohibited. U.S. residents only. Click here for the full rules.