Three new devices designed specifically for kids will join the ever-growing ranks of ebook readers this year–Vtech's FLiP Animated Reading System, Fisher-Price's iXL and Nintendo's DSi XL. Unlike their existing adult counterparts, kids ebook readers will have approximately 4-inch color touchscreen displays and the ebooks will be device specific. For younger readers, most titles will be based on characters they kids know and love.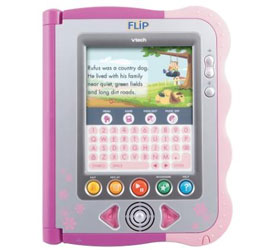 VTech FLiP Animated e-Reading System (Ages 3-7)
With this touch-based ebook reader your child can watch the story unfold, play reading games and consult the built-in dictionary. You'll be able to download more than 100 titles when the product becomes available this summer, including stories with characters from Shrek, Olivia, Toy Story 3, Mickey Mouse Club, Disney Princesses and Dora the Explorer. Each title will cost $20. Available in August. Price: $60.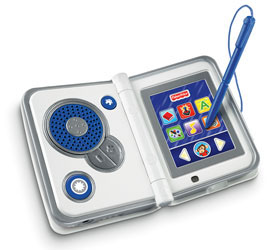 Fisher-Price iXL (Ages 3-6)
The iXL has basic ebook reader functions–a read-to-me mode and one where your child can press and hear the words. But that's just one of six activities. The device also serves as a game player, music player, art studio, note book and photo album. Each activity comes with preloaded content and for the photo album and music player, you can load your own pictures and music directly onto the iXL or an SD card. Additional titles that feature characters such as Ni-Hao Kai Lan, Disney Princesses, Handy Manny, Batman, Toy Story and Scooby-doo, will be available in September for $25 and come with material for each activity. Available in June. Price: $80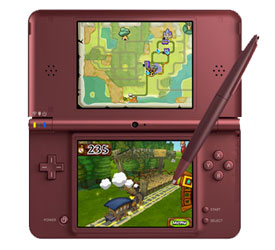 Nintendo DSi XL (Ages 6+)
Take a Nintendo DSi, enlarge its two displays to 4.2 inches, add a larger stylus and you have the DSi XL. It plays all the current DS titles and in June it will become an ebook reader with the release of 100 Classic Books. With authors including William Shakespeare, Jules Verne, Jane Austen and Mark Twain, it's a great package for older kids at a price of only $20. The DSi XL will come preloaded with Brain Age Express: Arts & Letters, Brain Age Express: Math and Photo Clock. Available March 28. Price: $190.
Pre-order now at Amazon.com