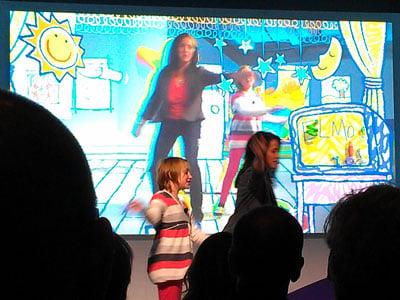 Yesterday Microsoft debuted its foray into interactive TV and books for Xbox 360 Kinect under the "playful learning" banner, demonstrating that they're not letting up in the quest to revolutionize the digital living room experience. This time, they're changing the game for the preschool set: providing families with increasingly immersive interactivity to encourage learning for a whole new generation. And with brands like Sesame Street and National Geographic, they're in a good position to succeed.
Within the TV shows, Kinect Sesame Street TV and Kinect Nat Geo TV, the lines between the physically and virtually real are beginning to blur. Grover isn't real (or is he?), but he's brought to life along with his friends Cookie Monster and Elmo. In this interactive TV experience, kids are transported to Sesame Street to physically interact with their favorite characters from the show, allowing preschoolers to actively participate and move with what they see on the screen, instead of passively viewing.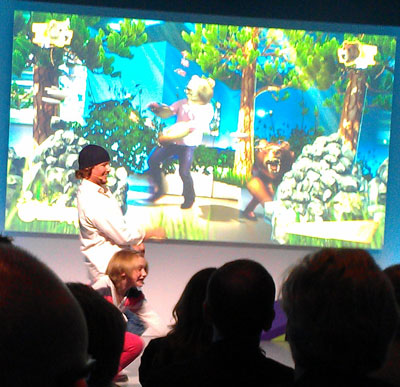 Kinect Nat Geo TV overlays an interactive experience on top of existing Nat Geo content, creating fun experiences for kids and families using the Kinect camera to transport you into the game. While watching episodes of Nat Geo WILD TV, interactive cues will appear on the screen letting kids know they can interact with that portion of the show. Both Kinect Sesame Street TV and Kinect Nat Geo TV will be available Spring 2012.
As if changing the interactive TV game weren't enough, Kinect is working on "Project Columbia" a one-of-a-kind way to bring storybooks to life with interactivity. Families will be able to go on a journey alongside their favorite storybook characters, engaging with the story in full-body play to underscore the material. This will also be available next spring.