Launching at CES, Iomega's new SuperHero is a charging cradle for the iPhone that allows you to back up your contacts and photos to the cradle's included 4GB SD card while you charge your phone.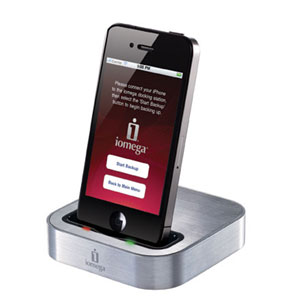 To a techie like me, the SuperHero seems unnecessary since the iPhone can easily be backed up onto your computer using iTunes. But, according to Iomega, many iPhone owners never sync their phones with iTunes and remain at risk of losing all of their data if their phone is lost or damaged. If you're one of these people, the SuperHero is definitely something you should look into.
Using the SuperHero is simple. Install the free SuperHero iPhone Backup App on your iPhone (3G, 3GS and iPhone 4 models are supported) and then every time you dock your phone, your contacts and photos are automatically backed-up on the SD card. If you and your spouse are both iPhone fanatics, the SuperHero can support back-up of multiple devices.
If you lose your iPhone, simply pop the replacement into the SuperHero and select the restore button.
The Iomega SuperHero is priced at $70.