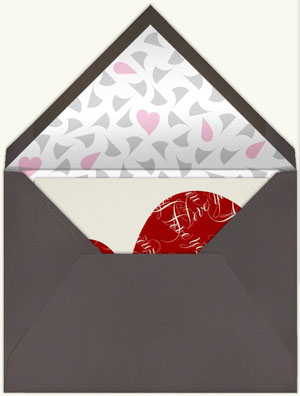 When I think "Valentine's Day card," I think of the paper one I'll be getting from my husband. And if he can't find the time to stop by a store and pick up a card, I'll be disappointed (you listening, honey?). Even when I expand my definition of "valentine" to include my kids, a paper card is better. But once the circle widens to include friends and family, the sentiment expressed in an eCard is just as good — sometimes even better.
Today there are a lot of great eCard options. From plain pictures to animated greetings to photo slideshows to fine stationery, you're sure to find something appropriate for those on your eCard list.
One of my favorite eCard sites is Paperless Post. The cards have a 3-D quality to them that make them look like real cards.
The Valentine's Day selection is small, only 53 cards, but they're beautifully designed and come with an elegant matching envelope. Clicking on the envelope starts an animation that simulates opening a "real" card. The whole thing is very classy for an eCard. You'll pay for it, though. Cards cost between 7 and 40 cents, plus you'll pay between 5 and 17 cents for virtual postage.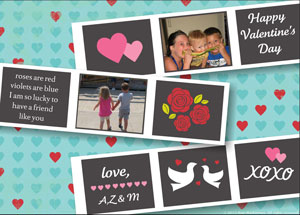 For a more personal touch, Smilebox (free, but with ads) lets you create a Valentine's Day-themed photo slideshow. Pick from one of 16 templates and customize it with your photos and text.
You can then e-mail it or post it to Facebook or your personal blog. Upgrade to Club Smilebox ($39.99 per year) for printing at home, ad-free playback, music and unlimited storage.
If you want a more traditional still or animated card, check out Hallmark.com and Care2.com. Between the two, there's a nice mix of humorous, sincere, flirtatious and friendly themes. Care2.com cards are free and Hallmark charges $12 per year for sending an unlimited number of cards.
While these sites are reputable, fake Valentine's Day eCards have unfortunately become a vehicle for spammers. McAfee estimates that nearly 1 out of every 200 spam e-mail messages has "Valentine" in the subject line.
So let your valentine know that you're sending a card, or he or she may not open it for fear it's spam. And if you receive an eCard, never click on links in e-mails or eCards from people you do not know. And always check the destination address of the link to make sure it is going to a legitimate eCard site.
While paper cards are definitely still most people's choice, Hallmark estimates that for each eCard there are 20 paper cards sent, there are more and better eCard choices out there. And frankly, if the message is right, either will make your Valentine smile.