Television manufacturers are always trying to find the feature that will appeal to consumers in a way that puts them head and shoulders above the competition. With how inexpensive and plentiful LED, LCD, and Plasma televisions have become, Ultra HD, SmartTVs, and OLED technologies have been touted as the hot new features you must have. But recently, I was able to experience Samsung's idea of the next evolution of TV dubbed Multi-View and I was blown away by it.
Samsung's OLED 55" Multi-View 3D HD TV displays two different 3D 1080p HD channels or up to 4 different 1080p HD channels on the screen at the same. Wearing special glasses that filter out the extra channels, you are only shown the one you want to see. Earbuds attached to the glasses provide audio for the channel you're watching. This way, four people in the same room can watch four different HD channels at the same time. Or two people can watch two different 3D channels.
I was very impressed with the picture quality. I expected ghosting or jitteriness of the image, but the display was sharp and clear, the colors vibrant, and blacks deep. There was no bleedthrough of the other 3D channel on the screen. The audio in the earbuds was sufficient. Many others were using the earbuds during the demonstration so I wasn't very keen on pluging them too firmly in my ears for a more thorough evaluation.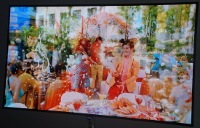 All this leads to the question: why would you want to to watch a different channel than the person sitting next to you? I see at least two scenarios when this kind of feature would be useful. First, while it's great for a family to all watch the same show, there are times when you don't want to see that episode of SpongeBob your child wants to watch for the umpteenth time and they don't want to sit through the latest season of Downton Abbey. There's a time for togetherness and a time for one's own interests, after all.
Second, when playing in multiplayer mode on an Xbox or other gaming console, every new player in the room splits the screen in half to get their own view of the action. This kind of set up would allow every player to get their own full screen experience.
Are either of those scenarios compelling reasons to buy a Multi-View television? Not at the outset. Though we don't know the cost of this Samsung model which is due later this year, you can bet it will be out of the reach of the average consumer, since OLED sets in general are price well above $10,000.
But like all impressive new technology, what is expensive and seemingly unnecessary now may very well be standard and indispensable in the near future. And buying one TV with this feature could save you from having to buy multiple TV sets in your house since up to four members of your family can watch what they want at the same time.
Multi-View TV may be in its infancy, but keep an eye on it in the future if it catches on among manufacturers and reduces in price significantly.