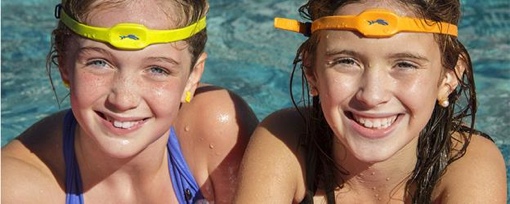 Owning a swimming pool can be a lot of fun – it's a great location for cooling down on hot days and hosting get-togethers for the family. Sadly, though, it can also be the site of tragedy. From 2005 to 2009, there were an average of 3,533 unintentional drownings per year, with children aged 1 to 4 most at risk.
A new Bluetooth sensor called iSwimband aims to reduce those numbers. Worn by your child on the forehead or wrist, the simple child-safety device sends an alert to your Apple iPhone or iPad if it's submerged in water for a predetermined length of time. Should your toddler fall into the pool, you'll know immediately.
The iSwimband has a range of 100 feet. That's an unfortunate limitation, especially if you live in a larger house. It's not a replacement for adult supervision, just a supplement to it.
Each iSwimband package includes one sensor, a headband and a wristband, and is currently available for $99.99. Colors vary and cannot be chosen. For more on the device or to order yours, visit iswimband.com.