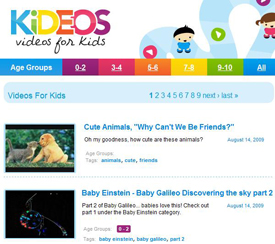 If you've got kids who are old enough, you've probably let them watch entertaining or educational videos on YouTube. My three year old son is a huge fan of the Welsh do-gooder Fireman Sam (go figure), and I've allowed him to check out videos once in a while in the doctor's waiting room or at the tail end of a meal at a restaurant. What I usually do is find him a video on YouTube, then let him watch it himself on my iPhone. However, I've noticed that somehow, he's already picked up how to use YouTube himself and if he ever gets hold of my iPhone or our iPod Touch, he's up and running. Last week we found him watching an odd video of Bob the Builder in Chinese, which turned out to be a farce about Chairman Mao. Ugh. Though, I guess it could have been worse.
So, what to do about making sure your kids only watch the right stuff for their age? First, I know I have to be more vigilant and make sure my portable video players are locked and childproof. But, other than that, I've turned to Earlier Media's Kideos.com, a video portal for kids. Kideos caters to children up to age 10 and videos are broken down into age groups going to by twos, beginning with 0-2 (when you start to let yours watch is totally up to you). The home page has a daily listing of 10 videos and on the right, you'll find a large list of categories, including Book Characters, Disney Movies, Super Heroes, Animals and my all-time fave, Muppets.
The videos are culled from YouTube, so you'll see the logo as you watch. And when you watch a video, you'll also get a spate of related videos below it, so even your younger kids can easily keep themselves entertained without much help. If you haven't see Baby Dancing to Beyonce, it's a must.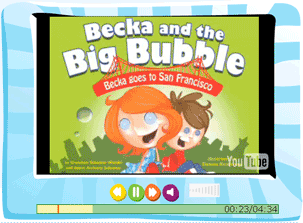 The interface is simple, clean and nicely arranged, and each video is screened by the company's Video Advisory Council (made up of a select group of parents and educators) before it's posted. In addition, parents can personalize the site using online tolls to limit videos kids can watch. Just select the appropriate category and that's all your kids will be able to access.
Kideos was created by parents who were trying to find their child something appropriate to watch while she was in hospital for a treatable, yet permanent, condition. They ask that if you enjoy the site, you make a small donation to the Children's Hospital Los Angeles and reference Kideos in the donation field. Earlier Media is also planning on bowing an app for the iPhone in the coming months. Stay tuned—I know I will.