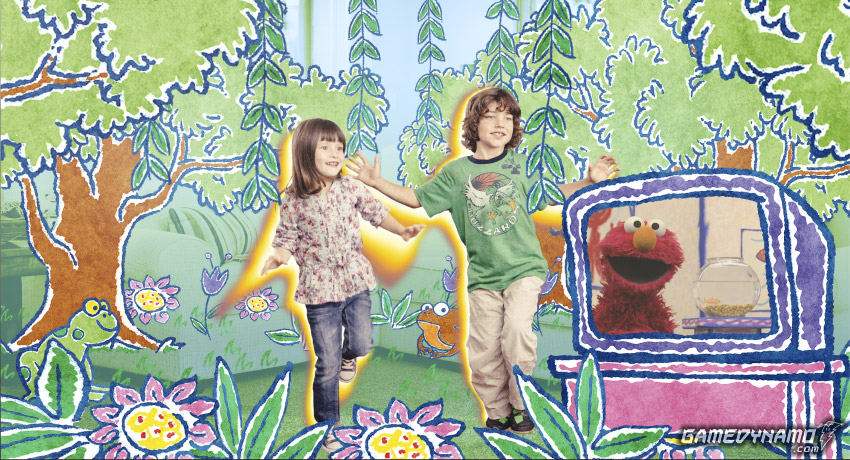 No matter how educational the programming, TV is still a passive experience. And for parents, it's a legitimate concern; while there's plenty of quality content, kids are sedentary and their eyes glaze over when they watch. Kinect Sesame Street TV and Kinect Nat Geo, two "shows" that use the Xbox 360 and Kinect peripheral, are a big step toward changing that and making TV truly interactive.
Kinect Sesame Street TV is a collection of eight 40-minute TV shows composed of live action video segments. Many of these -- such as Feist's adorable kiddie rendition of "1, 2, 3, 4" -- will be familiar to fans of PBS' long-running series. The key difference is that viewers are sometimes prompted to wave a hand to groom a dog, clap to identify a letter, or stand still for as many seconds as the number of the day. It adheres to the famed program's philosophy of entertaining while educating, but enhances the experience with physical interaction. Essentially, these are standard shows, with three or four interactive sections, and no right/wrong, penalty/reward system at work. Kids can engage or move on as they wish. My own almost-six-year-old twins, though "over" Sesame Street, were captivated by the interactive sections, though both wished there was a bit more to do.
Kinect Nat Geo TV, meanwhile, is comprised of eight interactive wildlife documentaries for kids. Host Casey Anderson journeys with viewers to Alaska and Yellowstone Park to watch animals including wolverines, bats, grizzlies, wolves, and owls in the their natural habitats. Kids are occasionally quizzed on what they've learned, and have the opportunity to capture close-up photos of featured creatures by saying the word "Snap!" Each episode also has optional mini-games and bonus information called "Side Tracks," in which kids learn more and take on the role of an animal; they'll defend their meal from competing predators by swatting them away with their claws, catch their prey, or protect offspring. These moments in particular were the most engaging, and my kids cried, "Again, again!"
Both are very solid entertainment, and passed kid-testing with high marks. This is only the start of a radical new direction in TV, and we're bound to see improvements. Kinect Nat Geo TV and Kinect Sesame Street TV are available for $30 on disc, each with eight episodes. The Sesame Street software also comes with a season pass to the Kinect Sesame Street app, providing access to countless streaming segments spanning the show's 30-plus year history. Single episodes of both series are also available to download on Xbox Live for $5.