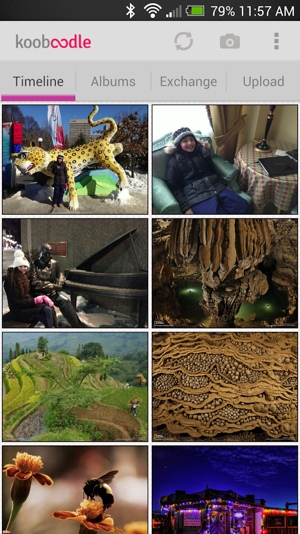 We all have a few pictures of ourselves on our cell phone, maybe a selfie or two. But the best photos of us are naturally going to be taken by other people. Photo sharing service Kooboodle's new MeFinder service, unveiled today at CES 2014, provides a way to automatically find the pictures of yourself hiding on your friends' devices and gives you the access to view them.
When you launch the Kooboodle app, you'll be guided through taking a brief video of your face to aid in facial recognition. You'll then be asked to invite your friends who might have your photos on their device. Once a friend accepts your request and downloads the app, Kooboodle's MeFinder will hunt through their digital photos to find and send you pictures of yourself.
"Our focus group participants loved it," boasts Kooboodle CEO Bryan McLeod. "Getting photos of yourself that you've never seen before that automatically start showing up on your screen is pretty cool."
For privacy's sake, you need to approve friends and albums before photos are shared – there no need to worry about your more risqué shots getting out. Nothing is shared publicly either, though what you and your friends do with the pictures you're sent is up to you.
Having to share Kooboodle with your friends can be a difficult hurdle to overcome, but being able to see and trade photos that you otherwise wouldn't know exist may just be worth the effort. The fact that Kooboodle allows you to share while still being more private than Facebook and Instagram is just icing.
Kooboodle is currently available for free download on Google Play (Android) and Apple iTunes (iOS). The service is available for Mac and PC users at kooboodle.com.