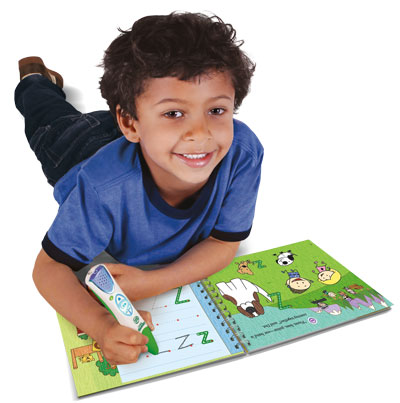 Six years ago, LeapFrog introduced Tag Reader, a learn-to-read system that combined paper books with interactive audio features. Today, the company does one better with the LeapReader, incorporating writing into the learning experience. The new writing feature works on both retraceable pages within their books and on an innovative new mess-free paper that captures each pen stroke.
The LeapReader works in much the same ways as the Tag reading system, utilizing paper books printed with fine dots that lets the LeapReader "see" where the child touches on any given page. The act of touching a page with the LeapReader pen can cause a variety of things to happen—a story will be read aloud, a word sounded out, an interactive game launched or a guided writing exercise will activate. In addition, new activities and audio can downloaded onto the LeapReader, which can hold more than 40 titles in its 256MB of internal memory.
Children can interact with the new writing features in two ways. First, tracing on the book pages will produce auditory feedback. Then kids can try writing those same letters on their own with the special paper. This paper has tiny ink capsules embedded in it that burst when the child presses down, creating a permanent record of his or her efforts, but without the mess of traditional ink pens. All four launch titles that incorporate this new writing feature come with an extra set of writing pages.
Another new wrinkle from LeapFrog is 3D which is showcased in one of the first titles to launch: Monster University. Unlike the 3D of old that required the reader to wear blue and red glasses to produce the effect, the LeapReader books uses a clear lenses, so the pages don't have noticeable distortion when viewed without the glasses. Up to five 3D titles will be available by the holidays.
In addition to the usual book fare, LeapFrog will also offer a wide range of audiobooks. There are childhood classics, like the Poky Little Puppy and other Golden Books titles; current favorites, including Arthur, Clifford and Thomas the Train; and even chapter books, like the Magic Treehouse, Nate the Great and Junie B. Jones series. Plus, there will be music from Kidz Bop and LeapFrog Favorites at launch.
The LeapReader will be available from pre-order on leapfrog.com starting June 12 with delivery in July. Writing books will cost $19.99 and include an extra set of writing pages. Regular and 3D books will cost $13.99. Audiobooks will start at $5, with chapter books starting at $7, and music will start at $10 for an album. LeapReader will be compatible with all current Tag books. The Tag Jr. will be rebranded as the LeapReader Jr. and be available in July as well.