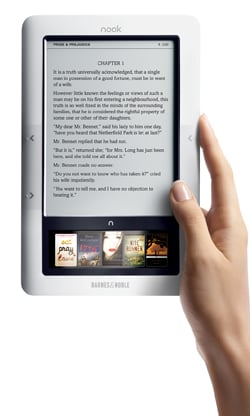 As a voracious reader of mysteries and other frivolous read-once fiction, I was a natural early adopter of the Amazon Kindle. I gleefully downloaded books minutes prior to takeoff and paid the bargain price of $9.99 for new releases. I had always swapped my physical books with friends, though, and that had sadly come to an end.
Until now. The new Barnes & Noble's Nook digital book reader lets you lend your digital books to friends for up to 14 days without an additional fee. You simply email the book from your Nook and your friend can read it on any device with the Barnes & Noble eReader software—iPhone, iPod Touch, some BlackBerrys and Motorola smart phones, and computers.
Another unique feature of the Nook is its use of a color touchscreen panel as the main navigation interface. It works beautifully for previewing the covers of the books in your library. The Nook will also sync the page you last read to other devices capable of reading your books. And, you can load your MP3s onto the Nook for listening to music, audiobooks and podcasts.
Like other digital book readers, the Nook has free access to AT&T's 3G broadband service for shopping whenever and wherever throughout the United States (there is no International access, as Amazon has with the International edition of its Kindle).
Here's how the digital-book-reader landscape looks now.