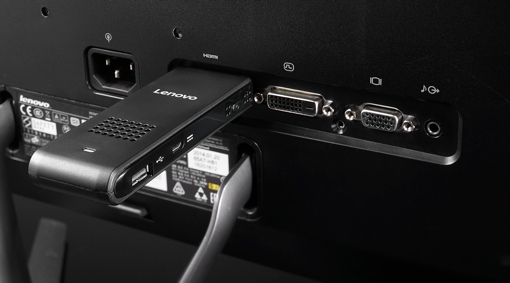 Looking for an inexpensive alternative to the traditional desktop or laptop PC, or maybe just a new super-powered streaming stick for your family's TV? Today, Lenovo announced the ideacentre Stick 300, an inexpensive pocket-sized stick that connects to the back of any modern TV or computer monitor with an HDMI port. It effectively turns any display into a Windows PC.
The stick itself may be just 15 millimeters thin, but it has decent power for a device its size. It's powered by an Intel Atom Processor Z3735F, 2 GB of RAM and has 32 GB of flash storage. Both Bluetooth and Wi-Fi are built in, too, so it's as easy to connect a wireless keyboard and mouse as it is connecting to the Internet.
One huge benefit of the Lenovo ideacentre is its status as a PC – that means the stick can do things that most smart TV sticks can't. Specifically, you can watch TV programs via your favorite network's website, and enjoy Hulu without dealing with device-specific playback restrictions. You'll also be able to harness all the other benefits of owning a Windows 10 PC, too.
The Lenovo ideacentre Stick 300 will be available in the U.S. this fall in retail stores and on Lenovo.com. It's price starts at $129, making it a compelling option for all your family's streaming video and light computing needs.
[Image credit: Lenovo]