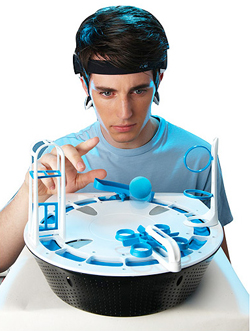 It's a strange little toy, this Mattel Mindflex. But I can't say I'm not impressed. Kind of like the Yoda of games, the Mindflex uses a brain-scanning headset to measure your brain waves and turn them into energy. Sounds kind of mystical, but it's really just a well-developed science project Mattel is marketing.
All you have to do is throw on the headset, press the sensors against your forehead and earlobes, then concentrate. This in turn powers a fan, which causes the little purple ball to levitate and move through a miniature, custom-made obstacle course of hoops. Think hard and your ball levitates. Think about taking a nap, and it comes down. A dial on the bottom of the course must be turned to steer the ball as it's levitating. Don't get me wrong, it ain't easy. And it really does test your concentration skills—which certainly isn't a bad thing when it comes to children.
The obstacle course can be repositioned into a bunch of different configurations, so you'll be able to challenge yourself and others regularly. Up to four players can compete, and there are five game modes: Freestyle, Mental Marathon, Chase the Lights, Danger Zone and Throughshot. The object is to get through the course as fast as possible—and a timer will tell you who wins.
Exciting, cool and truly challenging, Mindflex is a unique toy for the whole family.