Congratulations to Tiffany S. from Athens, Alabama! You've won the Microsoft Windows 7 giveaway!
Here's Your Chance to Upgrade to Windows 7 for Free!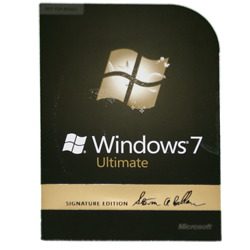 Window 7 offers significant enhancements over Vista and XP, and we believe it's worth the upgrade. See our article, Should You Upgrade to Windows 7? for an overview.
Now, you have the opportunity to upgrade for free! One lucky entrant will win a copy of Windows 7 Ultimate "Signature Edition" ($319.99 MSRP)! This is the top-of-the-line version of Windows 7 and will allow you to upgrade from a previous version of Vista or do a custom install from either Vista or XP. Both 32-bit and 64-bit versions of Windows 7 are available on the disk.
How to Enter
To enter the giveaway, simply subscribe to our newsletter during the contest period using the "subscribe" box on this page or any other page on the site. All subscribers to the newsletter are eligible for the drawing.
Want more chances to win? Forward our newsletter to a friend. If they subscribe and enter your email address in the "Referred by" field when registering, you will get another entry. Note: the "Referred by" email address must be the same as the original subscriber's email address in order to get credit for the referral.
The giveaway will end at 11:59pm on November 10, 2009.
Official Rules
We will randomly select a winner from the entries. No purchase is necessary to win. Void where prohibited. U.S. residents only. Click here for the full rules.