Congratulations to Jacob LaFountaine of Helena, Montana! You've won the Zune HD!
Microsoft Zune HD Giveaway!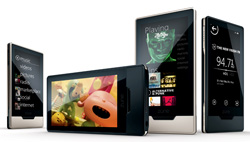 Enter now through February 9th, 2010 to win a Microsoft Zune HD 16GB portable media player ($219 MSRP)!
Zune lets you browse, stream, buy and play all you want, including music, HD video, podcasts, games, and much more. Get quick and instant access to all your content with innovative multi-touch navigation on the 3.3-inch screen and vivid 16:9 OLED display (480 x 272 resolution).
HD Radio™
Tune into many local HD Radio stations with crystal-clear digital reception at no extra cost. The integrated HD Radio receiver gives you access to more of the content you love. Plus, tag the songs you like for later purchase.
HD compatible video
Watch supported 720p HD movies, TV shows, and videos in high definition on your HDTV through the Zune HD AV Dock (sold separately). Or take them with you for premium entertainment on the go.

Wireless
Buy, stream, and update your music—and download free games—wirelessly via a wi-fi connection. Wirelessly sync to your home computer via your home network. You can also stream millions of songs over wi-fi directly to your Zune HD.
Web browser
Surf the web anywhere you have a wi-fi connection. Enjoy your favorite websites with a well-featured web browser, including tap-to-zoom technology, built-in accelerometer and touchscreen QWERTY keyboard.
Quickplay
Quickplay gives instant access to your stuff with shortcuts to favorites, recently downloaded or played music, videos and more.

How to Enter
To enter the giveaway:
Simply subscribe to the Techlicious newsletter using the "Subscribe" box on this page or any other page on the site—be sure to provide your name, city and state when subscribing
Then, post a comment below indicating your interest in entering the giveaway. Please use the same email address you subscribed with when commenting.
Maximum of one entry per person. The giveaway will end at 11:59pm on February 9, 2010.

Official Rules
We will randomly select one (1) winner from the entries. No purchase is necessary to win. Void where prohibited. U.S. residents only. Click here for the full rules.