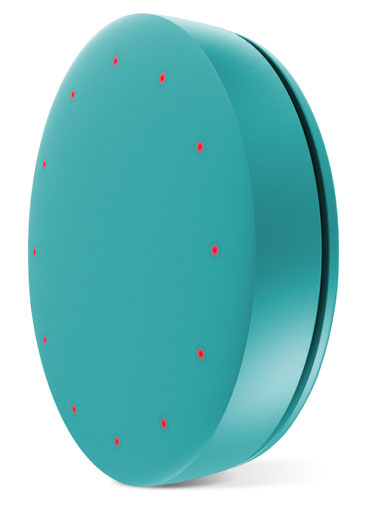 We named the Misfit Flash and Flash Link activity monitors in our Best Fitness Trackers for $50 or Less. Since then, the company has diversified its Flash and Shine offerings. This fall, Misfit announced the Speedo Shine, designed for swimmers, and now, the company is debuting a fitness tracker tailor-made for cyclists, the Misfit Flash Cyclist Edition.
The Flash Cyclist Edition takes the Flash, which is a water resistant (up to 30 meters), sleep-monitoring fitness tracker, and adds new tech that lets cyclists track their cadence, AKA how fast they're pedaling.
Paired with the new Misfit Cycling app, available for iOS and Android, users can track their optimal cadence, distance and speed, and can also use GPS to see their route using a Bluetooth connection. The Flash Cyclist Edition also pairs with biking apps Strava, Cyclemeter, MapMyRide, MapMyFitness, Wahoo and iBiker.
With the Misfit Cycling app, you can choose a mode for your Flash, so when you press the Flash's smart button, you can take a selfie with your phone, skip to the next track on your playlist or ping your phone is you need help finding it. The app gives the seemingly simple fitness tracker a lot of capabilities.
Like the basic Flash, the Cycling Edition's battery isn't rechargeable. It lasts for six months and, at that point you'll just have to pop in a new CR2032 battery. The Flash Cyclist Edition is made out of TPU plastic and polycarbonate to make it flexible, and there are 12 LED lights the button's circumference to let you know what time it is or how you're doing on your daily fitness goals.
The Cycling Edition is only available in a teal color called Reef. But Misfit and its brand collaborators offer a lot of accessories, including a sport necklace and more bands, to take your cycling style to the next level. And when you're done with your workout, you can dress the Flash up with bracelets and necklaces for work or an evening out.
The Misfit Flash Cyclist Edition is a little more expensive than the $19.99 original Flash (or starting at $15.95 on Amazon), selling at a suggested retail price of $49.99 on misfit.com. The tracker also comes with a sport band and a clasp. Time to hit the open road.
[image credit: Misfit]