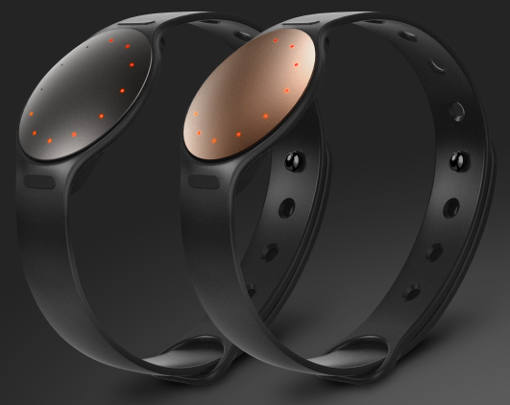 The Misfit Shine 2 may look a lot like the original disk-shaped Misfit Shine activity tracker, but the new version is thinner (8 millimeters) and slightly wider (30.5 millimeters) and packs in more powerful tracking technology. Use its companion accessories to wear it as a watch, clip it to your shoelaces or wear it around your neck. A new and improved magnetometer and accelerometer monitors your movements more accurately as you work and move during the day. And at night, the Shine 2 monitors the depth of your sleep.
If you get really sweaty during a hardcore workout or all wet in the swimming pool, you don't have to take off your Shine 2. Its body is anodized aircraft-grade aluminum, water-resistant up to 50 meters.
This space-age wearable can tell time, too, using the 12 LED lights on its face. The LEDs display up to 16 million colors and remain visible even under direct sunlight. The original Shine has one Time functions include a vibrating alarm for gentle morning wakeups.
The LED lights indicate progress toward your fitness goals by flashing in a certain rhythm and colors, an upgrade from the Shine's monochrome lights. Since the Shine 2's face is a capacitive touchscreen, you can interact with it by tapping or swiping. Use it to control your phone or tablet for such tasks as playing music, taking photos, managing mobile device notifications, connecting to certain Internet services and remotely controlling some smart home devices. And if you're tempted to stay on the couch or at your desk too long at a stretch, the Misfit Shine 2 will vibrate to remind you to keep moving.
Shine 2 features work using the companion Misfit Link app, which works on Bluetooth-4.0-enabled Apple devices with at least iOS 7 and Android devices with Android 4.3 or higher.
Unlike most other fitness trackers, the Shine 2 doesn't rely on a rechargeable battery. Instead, it runs on a replaceable coin cell battery that can power the device for up to six months.
The Misfit Shine 2 is available for pre-order from the Misfit website or Amazon for $99.99. Choose between Carbon Black and Rose Gold. The tracker will begin shipping in November.
Looking for an affordable fitness tracker? See our list of the best fitness trackers below $50. Stay healthy by learning more about exercise monitors, and stay tuned to our coverage about health and fitness.
[Image credit: Misfit]