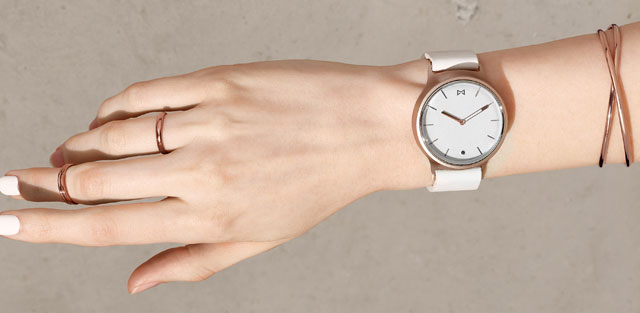 We're fans of Misfit's sleek, simple fitness trackers, which forgo power-sucking screens in order to give you a stellar six months of battery life. Now Misfit is bringing the same concept to smartwatches with the Misfit Phase. Like many new smartwatches, the Phase looks more like an old-fashioned analog watch than a smartwatch. It has a round face, physical hands and no display of any kind — exactly like a standard wristwatch. But Misfit's been perfecting streamlined interfaces on its fitness trackers for years, and the Phase does a lot with a little.
Instead of the standard notification pop-up you would expect on an Apple Watch or Android Wear watch, the Phase tells you about incoming calls or texts by vibrating, moving the watch hands and showing a colored indicator at the bottom of the screen. Different hand positions represent different contacts, while different colors represent different types of notifications. It's a subtle system that lets you know you have a text message without displaying it to the whole world, though as you add more notification alerts, it could be difficult to remember what's what.
Beyond this unique notification system, the Phase has two buttons on the right side that can be used to view information on the watch face (including alarm settings and activity goals), control music, snap a photo or trigger an IFTTT (IF This Then That) recipe to control apps or smart home devices. (Check out all the things you can do with the Misfit IFTTT recipes.) A single, double or triple tap on the button triggers features based on how you configure the Phase, giving you a wide range of options.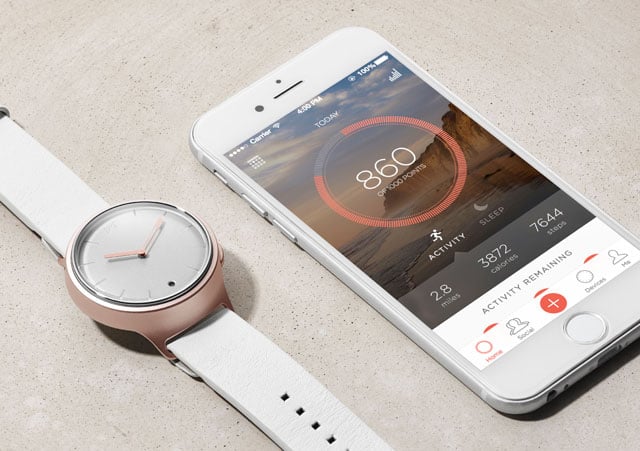 While the watch face gives you a basic display of your data, you can get a more detailed look via the Misfit app. This app will already be familiar to users of Misfit trackers like the Ray and the Shine. The app also allows you to configure notifications and watch controls.
Like Misfit's fitness trackers, the Phase has a six-month battery life using a replaceable CR2430 coin cell battery, so you'll never, ever need to charge it. And, of course, the watch offers a solid fitness suite of functions that tracks steps, distance and sleep using a three-axis accelerometer. For swimmers, the watch is water-resistant to 50 meters.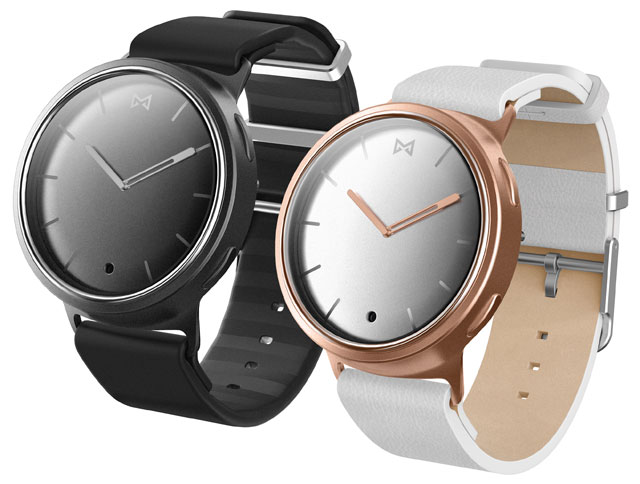 In terms of style, the Phase is similar to other Misfit devices. Its minimalist design means most people won't even realize you're wearing a smartwatch. Unlike some smartwatches, the Phase is only available with a 41mm case, a little smaller than the Apple Watch. This could look bulky on some wrists, but the round shape combined with a slim band makes it look smaller than similar-sized rectangular smartwatches. The watch body is available in six colors: black and silver, black and rose gold, rose gold, silver, navy and gold, and navy and gray. Straps come in silicone and leather, available in black, white, navy (silicone only) and brown (leather only), but the Phase is also compatible with standard 20mm bands to give you even more options.
The Misfit Phase is available for preorder now and will start shipping Nov. 7. It's priced a little lower than higher-tech smartwatches, currently at $175 with a silicone band and $195 with a leather band. That puts it just a bit below the Withings Steel HR, a smartwatch with a similar analog design.
[Image credit: Misfit]