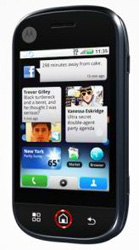 Here comes another smartphone. This one is by Motorola and is called the Cliq. Very snappy, non? So what makes it different from the other phones out there? First of all, it's one of the first in the U.S. to run on the Android platform—Google's mobile operating system which is designed to compete with Apple's iPhone platform. Second, it will bring a measure of organization to your life, thanks to Motorola's proprietary user interface, MOTOBLUR.
With MOTOBLUR you can view all your messages—email, Twitter direct messages, Facebook, MySpace and texts—in one mailbox. You can sort your messages by person, group or where it came from. You can even set up the phone's home screen to display email, friend status updates and photos without logging into or launching an application.
MOTOBLUR enhances the usual Contacts application with Twitter, Facebook and MySpace account information. When you look up a contact, you can see your communication history with that person and the latest social network updates. And here's a cool little extra: when making or receiving a phone call, your contact's latest profile picture and status is shown on the screen.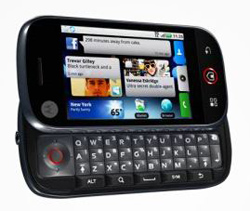 The phone itself is pretty. It has a 3.1-inch touchscreen display and a slide-out QWERTY keyboard. It has Wi-Fi, a full Internet browser, a 5 megapixel camera with autofocus and a 3.5 mm headset jack so you can plug in your own headphones. And like the Android-powered MyTouch we recently reviewed (See "T-Mobile's myTouch Takes Aim at the iPhone and Palm Pre"), it runs on T-Mobile's 3G network.
The Cliq will be offered exclusively by T-Mobile when it hits shelves later this fall.