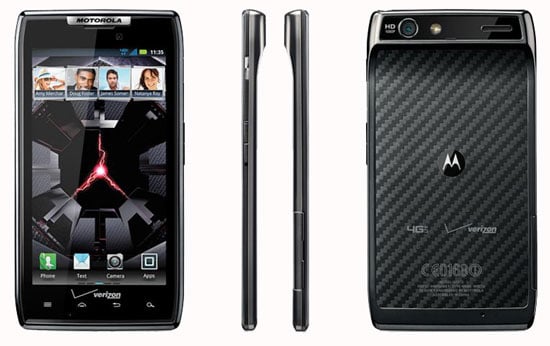 If you're a Verizon customer looking for a new Android phone, you'll want to wait until the Motorola Droid Razr arrives next month to make your final choice between it, the Motorola Droid Bionic and the HTC Thunderbolt. The Droid Razr is packed with high-tech features while also garnering the title of world's thinnest smartphone at 7mm thick.
At $299, the Droid Razr comes with all the speed you'd expect on the high end: 1.2GHz dual core processor, 1GB RAM and access to Verizon's 4G LTE network. But Motorola goes beyond that with some highly useful features.
First, it has splashguard, a water-resistant coating that's applied to all components in the phone—even the circuit board. I'm sure they're not recommending it, but you'll no longer be crying over that milk that's been spilt on your phone. It also has Corning Gorilla Glass protecting the screen, a steel core for rigidity and Kevlar fiber panel on the back for additional strength. The panel also has a soft-touch finish, so it feels secure in your hand.
Another happy surprise is the battery life. Motorola is claiming an impressive 12.5 hours of talk time and 8.9 hours of video playback.
The display is a 4.3-inch Super AMOLED Plus qHD panel, which looks great. One quibble is that while it's only 4.3 inches, the device feels like a 4.5-inch device in the hand. There's a much larger bezel on the Droid Razr than the Samsung Galaxy S II for T-Mobile and Sprint, which has a 4.5-inch Super AMOLED Plus display.
The Droid Razr also has dual cameras. The 8MP rear-facing camera takes 1080p video and has a video light in addition to a flash. The front camera has a 3MP sensor. The usual assortment of scene modes, flash settings and exposure controls are available—nothing above and beyond.
In all, the Motorola Droid Razr is an impressive phone and a viable contender for the top slot in Verizon's Android lineup.