The Motorola Photon announced yesterday by Sprint and due sometime this summer, will be Sprint's first dual-core processor phone. Like the Motorola Atrix on AT&T, the Photon will also have a laptop/dock accessory that can convert your phone into a reasonable facsimile of a computer.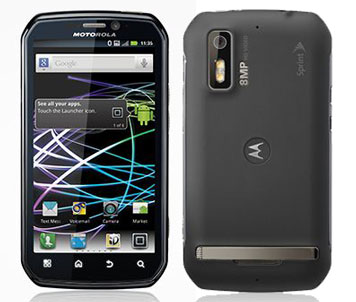 The Photon will sport a 4.3-inch LCD screen (540 x 960) and state-of-the-art technologies:
• 4G compatible on Sprint's WiMAX high-speed data network
• Dual 1 GHz Nvidia Tegra 2 processors, meaning enhanced
• International CDMA and GSM network compatibility
• Android 2.3 Gingerbread
• 8 MP camera with dual LED flash on the back with 720p HD video recording, and a front-facing VGA-resolution camera
• 4G/Wi-Fi hotspot capability for up to eight users
• 16 GB of storage memory built-in, and a microSD memory card slot to add an additional 32 GB; and,
• Mini HDMI out to connect the Photon to an HDTV to view both captured and downloaded HD video
Phone as PC
Earlier this year, Motorola unveiled the Atrix for AT&T, which was, at the time, billed as the world's most powerful smartphone.
What made Atrix unusual – and soon Photon – aside from its processing power, is Motorola's Laptop Dock accessory. The Laptop Dock is a dumb screen/keyboard – it looks like a slim laptop but has no computing power built in. You jack the Atrix into the back of the Laptop Dock, and the phone becomes the computing engine. Combined with Motorola's Webtop app/interface, and you have now created a laptop out of your phone.
At the Sprint/Motorola yesterday, Motorola showed a PC/HDTV docking station nearly identical to the one now available for the Atrix. While neither Sprint or Motorola would say so, it's likely there will be a Photon-specific Laptop Dock available when the phone itself goes on sale this summer (no pricing for anything was announced).
Looks v. specs
Which is all well and good and technologically attractive, except the Photon is less a sleek U.S.S. Enterprise torpedo than a Klingon-like device (the word "photon" instantly conjured up Star Trek for me). I wouldn't say Photon is ugly, it's geometrically angular, and just not as pretty as other Android phones such as the Samsung Galaxy S 4G.
However, its bright, colorful, high-contrast screen certainly stands out from the crowd. In fact, the display stayed bright, colorful and high-contrasty even under the bright lights of the event venue, although it's hard to tell how it would do outdoors in even brighter summer sunshine.