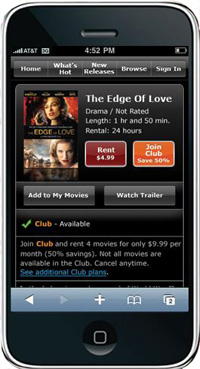 Watching videos on a 3.5-inch display has become fairly commonplace for my household. My iPhone and Touch are loaded up with "Little Bear," "Scooby Doo" and other assorted kid fare. Sometimes, though, you get stuck with nothing new to watch.
That's why mSpot's Movie service appealed to me. Instead of waiting to download a movie to my phone before I can watch it, I can stream it pretty much instantly over AT&T's 3G network or a Wi-Fi connection.
First let me set your expectations. This is streaming video, so it's more on a quality level with YouTube than what you'd find with downloaded videos.
Using AT&T's 3G network and iPhone 3GS, I watched Hoodwinked, a new take on Little Red Riding Hood. There were a few stutters on the soundtrack and the video became blocky during the fast action sequences, but it was definitely watchable (other testers weren't so lucky).
Using a Wi-Fi connection and iPhone 3GS and watching the same movie, I found the quality to be quite good. There were no audio drop outs and very few times that the video become blocky.
As far as the library goes, the titles number in the hundreds and there's little for kids, which was a big disappointment. The company has said that children's content is a high priority, though, so I'll be checking back soon to see what's been added.
Pricing is a little steep at $3.99-$5.99 per movie. Plus you must start watching the movie within 30 days of renting it and only have 1-5 days (depending on the movie) to finish the movie after you start. Joining the Movie Club (requires $9.99 advance payment, which then becomes a credit on your account) gives you discounts on movie rentals, with some movies costing as little as $2.50, but not all the titles are available through the Movie Club service.
Finally, the service only available on a few handsets for now. So enter your carrier and phone number here to see if your phone is supported, or browse to m.mspot.com with your mobile phone's browser.