Social media, email and text messaging are making it easier than ever to communicate with all of yours friends and family. Unfortunately, staying on top of all those channels can become overwhelming, especially when each platform requires you to log in to separate sites or apps to get your updates.
According to Jeff Tinsley, founder and chief executive officer of MyLife.com, "We have more ways than ever before to message someone, and mobile messaging will only continue to increase. However, that proliferation has created a clutter of unimportant messages and multiple messaging silos that do not work together."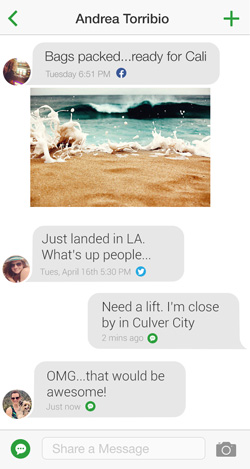 So the MyLife team developed a vision of bringing those disparate feeds into one place through a new app called MessageHub. MessageHub will pull your conversations from Facebook, Twitter, LinkedIn, email (Gmail and other major providers are covered) and SMS into a centralized communication hub that allows you to follow individual conversations across platforms, and share back out with just a click. No more switching from the Gmail app to Facebook Messenger to the Twitter app on your phone just to get a message out to friends.
MyLIfe is also building in an auto-prioritization feature that will show messages from your important contacts first, to help you avoid information overload. You can also group your contacts, so all messages from family members, for example, appear in one place.
The app just launched in public beta and is available for free on both iTunes for iOS and Google Play for Android.
Watch the video to learn more about the MessageHub app from MyLife.
This is a sponsored post on behalf of MessageHub.
Save time and get closer to the people who matter with MessageHub from MyLife.