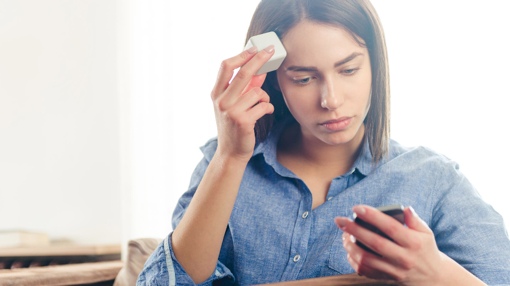 Can modern technology really help you get better looking, more youthful skin? According to mySkin, makers of the new OKU, the answer is yes. Their new iPhone-connected device analyzes your skin to make skin care recommendations based on your unique needs.
Unveiled at the CES 2015 consumer electronics expo in Las Vegas, the cubic OKU is placed directly on your face to measure your skin's moisture, oiliness, texture, wrinkles, elasticity and pigmentation. The linked OKU app then pulls from decades worth of dermoscopy and spectroscopy research and data to give you a numerical SkinScore, an easy way to tell whether or not your skin is improving. It will then suggest lifestyle and diet changes, as well as skin care products, to help boost your SkinScore even further and slow the aging process.
OKU gets better and more accurate every time you use it. To that end, the company recommends you use it twice a day for optimal results. Of course, if you skip a couple sessions here and there, you'll still be able to easily pick up where you left off tomorrow morning.
The mySkin OKU is currently available for pre-order directly from mySkin for $249.99, a discount over the $299.99 launch MSRP. It is expected to ship in the spring of 2015. The OKU app is free, but is for Apple iOS only. To learn more or to place a pre-order, visit getoku.com.
[Image credit: mySkin]