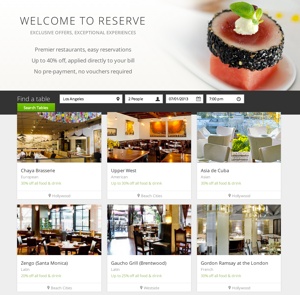 Daily deal website Groupon may be a nightmare for business owners, but it's always been a big hit with my friends and me. The reasons are obvious: We can buy heavily discounted gift certificates to our favorite restaurants and new local places that we'd like to try, letting us eat out more often. It's a great way to save money on something we do anyway.
In the years since Groupon's 2008 launch, the company's focus has drifted – perhaps out of necessity – from the restaurant model to an "anything goes" model where unappealing deals for laser hair removal, bartending courses and, most recently, a 40% discount on a "half-day deep-sea fishing trip" are offered. But today, Groupon is trying to get back to its roots, launching a new service called Groupon Reserve which offers enticing deals – and seating reservations – for some of the nation's most luxurious four-star restaurants.
Unlike the normal Groupon model, Reserve does not require you to purchase a gift certificate in advance. You simply visit the Groupon Reserve website, find the luxury eatery you'd like to give a try, and make a dinner reservation online. A discount will be applied to your bill automatically, all the way up to 40% of the total. And here's the best part: You don't need to print and show a coupon or voucher – something that would feel especially out of place in a fancy eatery, especially if you're on a date. You just show up, eat, and save. Pretty sweet.
There is a catch, naturally – Groupon Reserve is designed to help restaurants fill empty tables during slow times, so you'll only get the best discounts when you make reservations for a weekday or for off-peak times. You won't be able to combine the discounts with any other discounts either, and because Groupon customers are notoriously bad tippers, many restaurants will apply a 20% gratuity to your bill automatically.
A quick check of the restaurants currently on offer in Los Angeles largely shows a selection of 4-star or better eateries across the city, such as the expensive open-air Asia De Cuba in the ritziest part of Hollywood and Gordon Ramsay at the London, a dressy restaurant created by the famed reality TV chef. Of course, it's not just Los Angeles restaurants on Groupon Reserve – Atlanta, Boston, Chicago, Denver, Miami, New York City, Philadelphia, San Francisco and Washington D.C. are all represented at launch, with more cities coming soon. Not all cities have a great selection yet, but more restaurants will be added if the program proves successful.
If you'd like to taste the finer things in life (and pay 60 cents on the dollar for them), head over to Groupon Reserve and see what eateries your nearest big city has to offer.