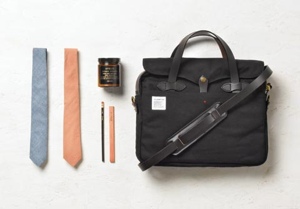 TOMS has grown an incredibly loyal cult following thanks to a socially responsible business model: For each pair of shoes you buy, a matching pair is donated to a child in need. Now, the company is expanding that concept with TOMS Marketplace, a new online store that features wares from like-minded companies with similar charitable missions.
"For the past few years, I have been humbled by the number of social entrepreneurs who have been inspired by the TOMS business model," explains company founder Blake Mycoskie. "In fact, it wasn't too long ago that I found myself in a similar position. So I thought, 'What can we do to help support these companies?' The TOMS Marketplace is the result."

TOMS has curated a wide selection of apparel, accessories and more from 30 different companies in the Marketplace, from incredibly cool upcycled accessories and organic neck ties to lamps made from locally sourced Mugavu wood. All the items fit in well with the earthy, trendy TOMS aesthetic. Prices range from $5 to $500 – about what you'd expect to pay for each item in a nicer department store.
Each purchase made through the TOMS Marketplace directly benefits a related noble charity. Purchase a $150 pair of beech wood LSTN headphones, for example, and you'll help restore hearing to a person in need. Purchase a $26 knit owl beanie, and you'll support the Ugandan artisan who crocheted it. If those causes don't inspire, you're bound to find one you find worthy – the Marketplace lets you sort items by cause and region.
You can visit the new TOMS Marketplace at toms.com/marketplace. For another cool way to give to charity while shopping for yourself, check out the new AmazonSmile program as well.