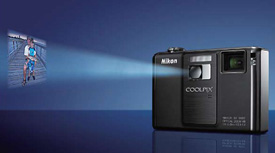 Tired of crowding around a tiny 3-inch display to show-off your latest photos? Nikon's solved that problem with its Coolpix S1000pj—It has a built-in projector to display photos and videos you've shot with the camera.
As you might expect in a camera that measures a mere 4 by 2.5 by 0.9 inches, the projector isn't very powerful. With a brightness rating of up to 10 lumens, you'll need to avoid bright overhead lights and sunlight. However, it throws a DVD-quality image from up to 6.5 feet away, which results in a 40-inch image (video or still). The camera also has an adequate built-in speaker for audio playback.
My expectations were pretty low in regard to the projector when I read about the camera, so I was pleasantly surprised by the quality when I saw the camera at a recent trade show. It did quite well on a gray wall and even a somewhat wrinkled white shirt—especially at shorter throw distances. The battery in projector mode lasts one hour.
As a camera, the Coolpix S100pj packs a 12.1MP sensor, a 5x wide-angle optically stabilized lens and a 2.7-inch display. In all, it's a very interesting camera for those that like to shoot and share. We imagine that kids,especially, will get a kick out of seeing themselves projected on-screen.