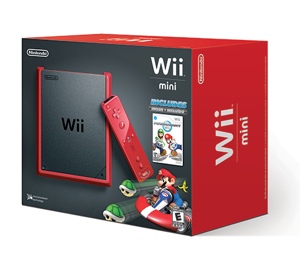 Great deals can be found just about everywhere during the holiday season, but thanks to Nintendo, one is arriving a little bit early this year. If you haven't yet purchased the Nintendo Wii – a really fun, family-oriented video game console – you'll be able to pick up a new value-packed Wii Mini bundle for just $99.
"Wii mini offers the same fun experience as Wii, which has been enjoyed by millions of people around the world," said Scott Moffitt, VP at Nintendo of America. "And it comes packaged with Mario Kart Wii, a multiplayer Mario racing game that is one of the best-selling Wii games."
Nintendo's naming conventions are getting a bit odd, but here's what you need to know: The Wii Mini is simply a smaller version of the 7-year-old Nintendo Wii console capable of playing Nintendo's catalog of 1,300 Wii games (but not Wii U games). The system itself is matte black, surrounded by a red racing border. It also comes with a red Wii Remote Plus controller with the Nunchuk controller accessory.
One key feature is missing, however: The Wii Mini is unable to access the Internet. That means you won't be able to play games like Mario Kart Wii against other players across the world. Nintendo has already stopped supporting a number of Wii services (like Everybody Votes channel) – the company is trying to focus its Internet efforts on the newer Wii U console. Of course, even without Internet connectivity, you'll still be able to play hard against friends and family in your own living room. That's where the real fun of the Wii is, anyway.
Nintendo is also deeply discounting its most popular flagship titles. You'll be able to pick up "older" Nintendo Wii classics like Super Mario Galaxy and The Legend of Zelda: Twilight Princess for $19.99. Newer best sellers like Super Mario Galaxy 2 and New Super Mario Brothers Wii will sell for $29.99. The system has a number of terrific fitness games available as well. It's a great, inexpensive way to get younger kids involved with an older-but-still-fun, sanitized console with robust parental controls.
Nintendo has not announced a release date for its Wii Mini console, though the company says to expect it to arrive "in stores by the middle of November."