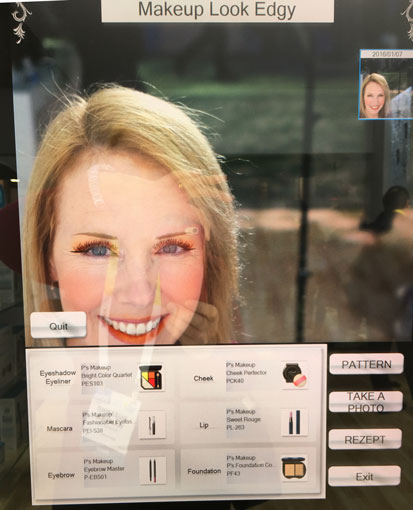 Whenever I select a foundation or lipstick, I always try on a few shades at my favorite beauty counter before buying. But that's not a very practical process when I am looking to try on dozens of different makeup combinations for a whole new look. That's where Panasonic's Future Mirror comes in.
When the Panasonic Future Mirror is installed in stores, you'll be able to go to your favorite beauty counter and virtually try on multiple new looks. The Future Mirror automatically identifies your facial features and overlays makeup over your image in the mirror. The Future Mirror can even track you as you move, so you can see the makeup as it would appear in real life.
The make-up artist can quickly cycle through your options and then tailor the colors and application to your taste. This makes it easy to try looks that are outside your comfort zone (like this edgy look I tried on) and discover new shades you wouldn't have otherwise considered. Once you like what you see in the mirror, you can purchase the products and have step-by-step application instructions emailed to you.
The Future Mirror can also be used to analyze your skin, checking for pores, radiance, sun spots, fine lines and other skin characteristics. And with your skin evaluation, you'll receive recommendations for beauty tools, like facial steamers and cleaning devices, and skin care products, including cleaners and moisturizers.
Want to know how well your new skin regimen is working? The Future Mirror can store your results each time it performs a scan, so you can see your progress the next time you visit the store.
Trying before buying is essential when it comes to beauty products and the Panasonic Future Mirror's technology lets you try all the options to ensure you're making informed buying decisions. See the Future Mirror in action in the video below. And for more information, visit panasonicces2016.com.
Image Credit: Techlicious