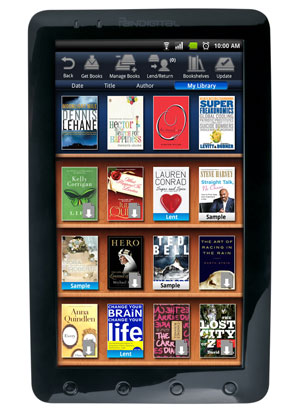 The latest in the Pandigital family of ebook readers, the Pandigital Multimedia Novel is a 9-inch color tablet based on the Android OS with 3G connectivity to the Barnes & Noble eBookstore.
3G connectivity is free and, not surprisingly, limited to the accessing the Barnes & Noble eBookstore. You'll still need to use the built-in Wi-Fi for browsing the web.
Apps, which had been promised for the black and white Novel models, are finally making their debut, though not through the Android Marketplace. You'll have to download them from the web. Pandigital also doesn't promise full app compatibility. Like earlier Pandigital Novel models, a web browser, an alarm clock, calendar, a few games, a photo and movie viewer and music player apps will come preloaded.
The 9-inch display on the Multimedia Novel is an upgrade to the earlier black and white model's 7-inch screen, making browsing the web, watching movies, playing games and viewing photos more enjoyable. Like the iPad, though, you'll pay for the extra screen size in weight. Complete specs haven't been released, but I'll see it tomorrow at the Consumer Electronics Show and let you know.
The Pandigital Multimedia Novel will be available at several national retailers beginning this month for $280.