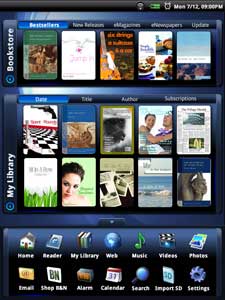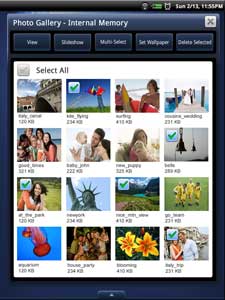 First and foremost the Pandigital Novel is a color ebook reader. Its 7-inch color resistive display (meaning you have to exert some pressure) provides a very appealing view of the Barnes & Noble online bookstore and a nice showcase for your library. You can even create bookshelves to categorize your titles. The model I saw was a pre-production unit, so everything wasn't working. That said, reading is similar to using the ebook reader apps found on the iPad, though swiping to turn a page is more cumbersome with the resistive screen.
What sets the Pandigital Novel apart from other ereaders, though, is its operating system–Android. When the Novel ships next month ($199), it will come loaded with a web browser, an alarm clock, calendar, a few games, a photo and movie viewer and music player (yes you can read and listen to music). But in a few months, Pandigital will release a firmware update that will let the Novel support the thousands of apps developed for Android, making it an entry-level iPad competitor in the tablet computer market.
The Novel has built-in Wi-Fi, a 4-hour battery (or 6 with Wi-Fi off) and 1GB of internal memory, which is expandable via its SD card slot. It also comes with a stand so you can use the device as a picture frame while charging.
Below you'll see video I shot of the Novel last week in its optional case, which also comes in red and black. The initial device will be white, with a 2GB black model to follow.