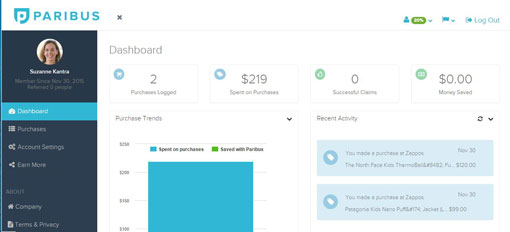 Many retailers tout their price guarantees, promising to refund the difference if the price drops. But who has the time to take advantage of these offers?
While most stores do issue refunds for price decreases after you have bought an item, you need to take action and ask in order to receive a refund of the difference. More importantly, you need to know that the price has dipped in the first place. The challenge here is twofold: You need to follow the store's specific procedures to file your claim (which can sometimes be elaborate), and you need to constantly keep track of the item's price (which might mean regularly visiting the online store).
Paribus does both these things for you. First, it analyzes your emails, especially those containing receipts of your online purchases, to extract purchase information. Then, it monitors the prices for your purchases on your behalf. If the price goes down within the refund period (usually within seven to 15 days of the purchase, depending on the merchant), Paribus does the paperwork for you, following each online store's specific policies and procedures. Paribus charges you a commission of 25 percent of the refund money. If you refer friends, though, you can decrease that commission.
Paribus does not work for airline tickets and other travel purchases. Also, for the app to do its work properly, it needs full access to your email and credit card number (for sharing a portion of the applicable refunds with Paribus). And, if you wish Paribus to monitor Amazon prices, it will also need to provide your Amazon credentials.
Sound like a good fit for you? Learn more at the Paribus website. The Paribus app is available for iOS devices. To learn more ways your tech can help you save money shopping, read about how to get the best prices shopping online.
[Image credit: Paribus]