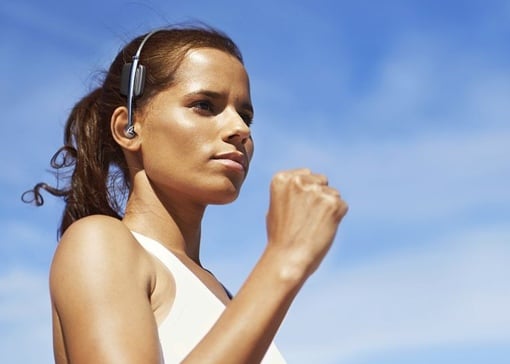 We've seen our fair share of Bluetooth 4.0 headphones here at Techlicious, and our share of exercise monitoring gear too. The Zik Sport, the latest Bluetooth headphone offering from Parrot, revealed here at CES 2015 in Las Vegas, combines the best of both worlds – it's a biometric in-ear Bluetooth sports headphone for runners with a smart design.
In fact, it's the design of the Parrot Zik Sport that really makes it stand out from the competition. Most in-ear Bluetooth headphones use a loose neck strap or connecting wire, which can cause buds to slip out of your ears during vigorous exercise like running. The Zik Sport Bluetooth headphones rest on top of your head for a far more secure fit. Soft side padding, meanwhile, makes it comfortable to wear.
The physical design is only part of the story, though. These runners' headphones track your heart rate, your cadence (steps per minute), vertical oscillation and the ground contact time for each of your feet through the Parrot companion app. The Zik Sport has adaptive noise cancellation, so when you're in the gym on the treadmill, you can drown out the outside world. When you run outside, you can activate a "street mode" that will let in all the important sounds you need to hear for your own safety.
The Zik Parrot Sport will be available sometime later in 2015. Pricing has not yet been announced. To learn more about these interesting new sports headphones, check out the official Parrot blog and the short promotional video below.
[Image credit: Parrot]