Congratulations to Billie Burkhart! You've won the Philips Streamium Giveaway!
Philips Streamium Network Music Player Giveaway!
Enter now through January 12, 2010 to win a Philips Streamium NP1100 network music player ($179 MSRP)!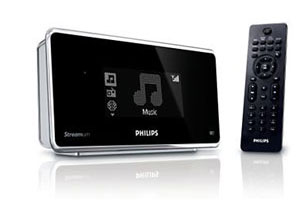 By connecting to both your PC and audio system, the Philips Streamium network music player gives you wireless access to your PC music library, Internet radio and Rhapsody online music service.
Thousands of free Internet Radio Stations, without having to turn on your PC.
With UPnP connection, the Streamium network music player can access the music stored in your PC and stream it to a music system, so you can enjoy your favorite music in great sound quality.
Instantly access millions of songs anytime through the Rhapsody® online music service (subscription required).
Connect via ethernet or wirelessly with the built-in 802.11g wireless connection.
Included remote lets you controll all the Streamium's functions from the comfort of your couch
How to Enter
To enter the giveaway:
Simply subscribe to the Techlicious newsletter using the "Subscribe" box on this page or any other page on the site—be sure to provide your name and location when subscribing
Then, post a comment below indicating your interest in entering the giveaway. Please use the same email address you subscribed with whe commenting.
Maximum of one entry per person. The giveaway will end at 11:59pm on January 12, 2010.

Official Rules
We will randomly select one (1) winner from the entries. No purchase is necessary to win. Void where prohibited. U.S. residents only. Click here for the full rules.