I usually think of myself as an active person. I live in New York City, which means walking everywhere to do my errands, and I have three kids that I chase around. Over the last few weeks, though, I have seen hard proof that I can be quite sedentary, unless I make a conscious effort not to be. It all started when I opened Personal Trainer: Walking, a combination of pedometer and software that runs on a Nintendo DS, or DSi in my case.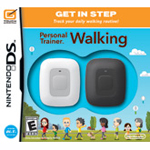 The idea behind Personal Trainer: Walking is that if you can see your pattern of activity and track how many steps you take per day, you can set goals to become a more active person. The software takes you on a tour of the day, commenting on when you woke up, your periods of activity and inactivity, when you met your step goal (if you did) and when went to bed. Then you get a rating. If you're inactive, you're classified as a slow animal, like a koala or sheep. If you're more active, you'll be a horse or ant.
Every day when I woke up in the morning, I clipped the pedometer to whatever clothing I was wearing and carried it with me until bedtime. At the end of the day, I launched the Personal Trainer: Walking program on my Nintendo DSi, downloaded my steps by pressing a button on the pedometer and reviewed my activity.
Those first few days were certainly an eye opener. I kept the default goal of 3,000 steps per day, thinking I'd easily surpass it. My first day I logged a mere 2,228 steps. 2,000 steps equals about one mile, so I'd only walked a little over a mile—all day. The software classified me as a sheep, which I did not find very flattering. It was motivating, though. The next day I walked 6,121 steps and graduated to an ant.
With the carrot of meeting my step goal, I soon found ways to add extra steps into my daily routine. Now it's the rare day that I don't hit my current step goal of 5,000. I've been adding the recommended 500 steps per week and still have my sights set on a goal of 10,000 steps a day. I've broken 9,000 on weekends; my highest count was 9,760. But I think it will require a return to the gym to exceed that 10,000 step goal on a regular basis. I'll let you know when I do.
How do you use technology to help meet your fitness goals? Please share your tips in the comments section below.
Nintendo DSi: Buy Now
Personal Trainer: Walking: Buy Now