Calling all fashionistas: Pose is a personalized fashion magazine that provides you wardrobe ideas based on your individual sense of style. Pose is sort of like Pinterest, in that it's highly visual, you can save looks (poses) you like and even buy things you find there—except it's focused entirely on fashion and beauty.
The Pose website and its companion Android and iOS apps have more than 1 million users—a good many of whom are fashion industry influencers the likes of Rachel Zoe, Kelly Wearstler and Coco Rocha.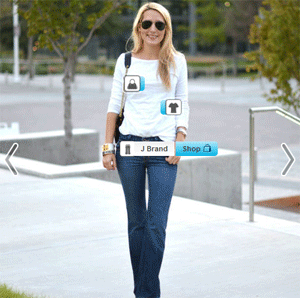 To get started you log-in with Facebook or with your email. Then you take a style quiz that asks you things like "Which mani would you rock—bright or neutral?" or "Which colors do you like to wear—bold or pastel?" Once you answer the questions, Pose automatically sets you up to follow people it thinks your style is compatible with and their photos show up in your stream.
Using the discover area of the app you can also find your friends on Facebook or Twitter who use Pose and choose to follow them, if you like. You can also for search for the most popular poses or which users are most followed. And when you find a look you want to save you can store it in a collection such as "Fall shopping" or "favorite shoes."
Featured users are incentivized to upload images of their looks to Pose because they get a commission from each sale they drive. Within five days of Pose's iPad app launch they added more than $200,000 worth of shoppable merchandise from more than 50 different e-Commerce retailers and 100 brands.
When I tested it, I initially found the photos in my stream to be nothing most people I know would wear, although I'll admit I'm not a fashion risk-taker. After going to my profile and clicking on the "following" tab, I unfollowed some of the more edgy fashion influencers, culling it down to the more conservative dressers.
If you're into fashion and beauty, it's definitely worth giving Pose a whirl. Try it out at Pose.com, Apple's iTunes store and Google Play.