If you have already begun scouting out deals for potential gifts this holiday season, you may want to add Xbox to your list. You'll find significant discounts off some great kids titles, putting some games in reach under $20.
Wait, don't have an Xbox 360? Microsoft has launched a holiday season sale to bring "Xbox Entertainment for All." With pricing starting as low as $99 you can get a 4GB Xbox 360 with Kinect or a stand alone 250GB Xbox360. For $50 more ($149 total) you can get the Kinect with the 250GB as well. In order to get the deal, you'll have to purchase a 2 year Xbox LIVE Gold Membership at $14.99 per month. Retailers and additional details can be found here on the Xbox 360 Entertainment for All Plan website.
Here are kid-friendly titles on sale that are worth checking out: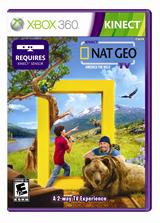 Kinect Sports: $19.26 on amazon.com

Winner of a Parent's Choice award, this is a great game to get kids moving as we begin to get into nasty weather and those winter doldrums.

Dance Central: $15.99 on amazon.com

Dance Central offers hours of family dance-off fun. While there are three seasons of Dance Central, the original Dance Central is now available for under $20.
Kinectimals and Kinectimals Now with Bears: $19.96 on amazon.com

Also a winner of the Parent's Choice gold award, this is great fun for younger kids. The original Kinectimals and the sequel "Kinectimals Now With Bears" are both available for this price.

Kinect Disneyland Adventures: $18.00 on amazon.com

Kinect Disneyland Adventures allows you to virtually walk around and explore the Magic Kingdom and ride numerous rides around the park.
Kinect Sesame Street TV: $29.99 on amazon.com

Kinect Nat Geo TV: $29.00 on amazon.com

Great education programming made even better by interactive elements. Our kid testers loved both Kinect Sesame Street TV and NatGeo.