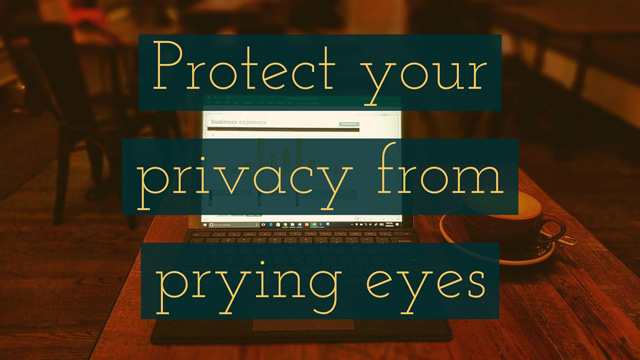 As a small business owner and journalist, I spend quite a bit of time working outside the office. Whether it's writing up notes at a press conference, answering emails in a local coffee shop, going over my company's financials on an airplane or entering my credit card information for a car to the airport from my hotel lobby, there are plenty of occasions where I want to protect the confidential information on my laptop from prying eyes.
Unfortunately, that's not always so easy to do. In fact, a recent study by 3M showed how easy visual hacking can be. In the study, an undercover white hat hacker was able to visually hack sensitive information from an unaware user in 88% of the trials. And 70% of the time the hacker went completely unnoticed or unchallenged.
But there is a simple solution that will work with almost any laptop or tablet (and even many smartphones) to keep your private information out of view of airplane seatmate and fellow coffee shop patrons - a privacy filter from 3M. Just attach the privacy filter to your laptop display and your screen will start to fade to black when viewed from more than 30 degrees to the side, and will effectively be blacked-out at 60-degrees. You'll even get the added benefit of reducing 35% of blue light transmission from the display (making it easier on your eyes) and protecting your screen from everyday dust and scratches.
The 3M privacy filter works using "micro louver" technology. Very tiny ridges are built into the filter, which block light from being transmitted to the side, but allowing visibility when viewed head-on.
I attached a 3M privacy filter to my Microsoft Surface Pro 4 and am much more comfortable working in public spaces knowing that others won't be looking in. Installing it took me two minutes and you can barely tell it's even on the laptop, it blends so naturally into the display. Check out the video below to see the 3M privacy filter in action.
3M privacy filter are available in black or gold shades (pick your style preference) and a wide variety of sizes to fit most common laptops, tablets, monitors and smartphones. Visit 3Mscreens.com to see the 3M privacy filter options for your devices. It's your privacy, keep it protected.