Every Morning I debate with myself what to wear. Now my iPod touch acts as my own personal fashion assistant with the Clothes Roulette app. Clothes Roulette mixes and matches my own clothes to create daily outfit ideas – expanding my fashion horizons and decreasing my frustration level with my wardrobe.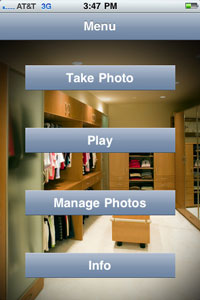 Clothes Roulette allows me to take photos of my shirts, pants, dresses sweaters and shoes, and then displays them all in a virtual dressing room. I can test various outfit combinations, or let the app give me ideas using its roulette wheel-style clothing spinner.
Clothes Roulette can also help pick outfits while you are shopping so you buy more effectively. Snap a photo of the shirt or pants in the store and then pair it up with the clothes you already own in the Clothes Roulette app. If it doesn't pair well with what is already in your closet, you know you're wasting money purchasing it.
The Clothes Roulette app is available through iTunes for $.99, or free for the ad-supported version.